Michelle Durpetti
A creative website for a highly respected Chicago entrepreneur
One of the country's top 50 wedding and event planners, she's been named "Woman of Style" and "Dynamic Woman" by leading publications. She is the recipient of numerous awards from the nation's top wedding vendor platforms for her wedding and event styling and planning services. Michelle Durpetti is a true definition of success; entrepreneur, event planner, equestrian, venue owner, hospitality expert and now, blogger!
A personal, yet professional website for a blogger.
When designing and developing Michelle's blogging website we knew it would need to present a modern look with a personal twist. Even a quick glance at the main menu will present the many facets of her life; that is by design. It was important for the website audience to have a simple way to access the primary post categories. We created the top section of each page to house a photo and an introduction relating to that particular subject. Each blog section automatically populates with content depending on the blog categories when they are published making it easy for viewers to see the latest posts depending on their interests.
Photo Credit: Michelle Durpetti
Photo Credit: Michelle Durpetti
Photo Credit: Michelle Durpetti
Photo Credit: Michelle Durpetti
Photo Credit: Michelle Durpetti
An alternative to presenting a list of preferred vendors on your website.
When you are a respected individual or business, your audience may look to you for recommendations on other reputable professionals. Rather than present just a list of who you recommend, think of other ways you can share the details. We designed a filterable gallery of vendor logos for Michelle. Titled "Michelle's List" it holds the logo, name and a brief blurb of each professional she has worked with and confidently recommends.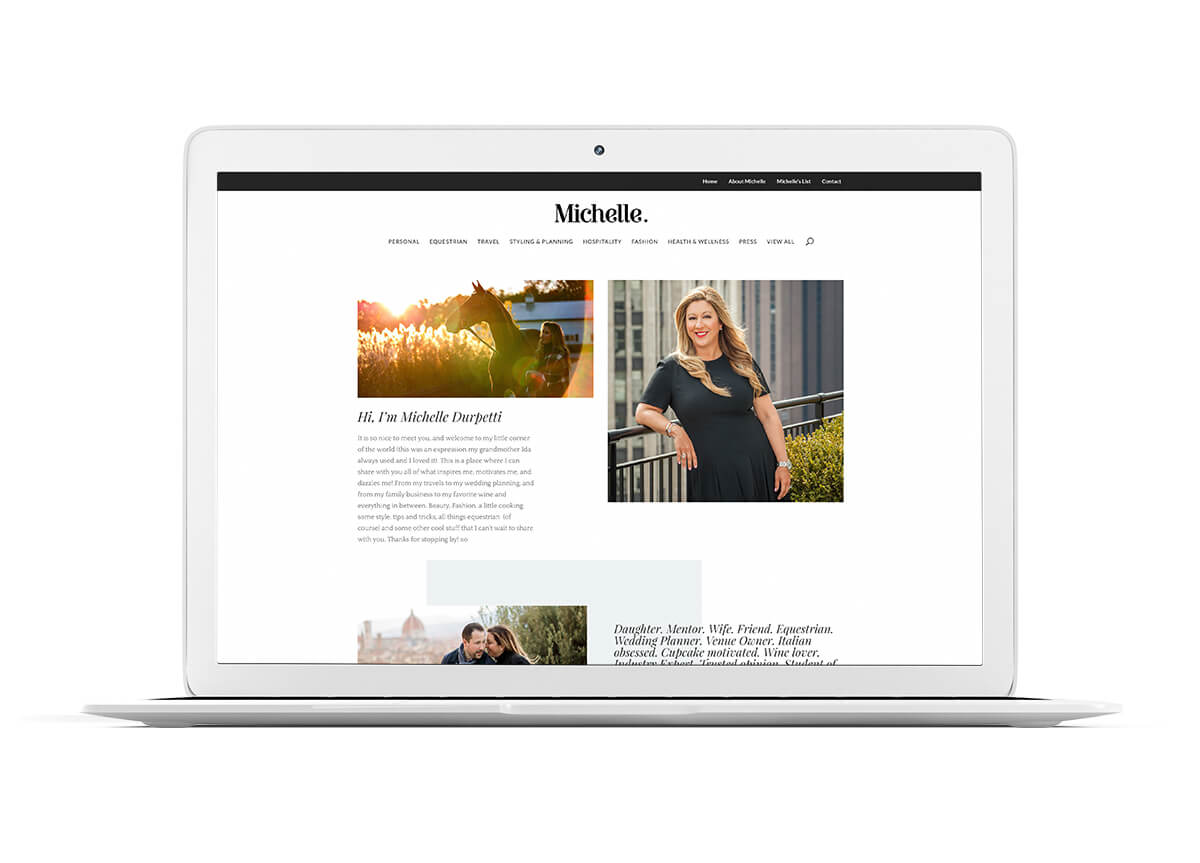 MAJOR shout out today to Rose Landa and the amazing team at Landapixel for being absolutely integral to all of our digital platforms. From Gene & Georgetti to Michelle Durpetti Events to The Estate, Rose keeps our sites stylish, pristine and humming along and is overall one of the nicest human beings on the planet.
Michelle | Via Facebook
Reach and grow your audience with an engaging website.